Looking for your next Subaru vehicle, but aren't sure which one to choose? Let us present two of our favorites: the 2021 Subaru Crosstrek and the 2022 Subaru Outback. Since there are such great features in both vehicles, we put together this quick comparison so that you can decide for yourself which one is best for you. There are many things to consider, and many areas where these SUVs shine.
For drivers in the Wakefield, Reading, and Danvers, Massachusetts, areas, the team at Ira Subaru put together this vehicle comparison of the Subaru Crosstrek vs. Subaru Outback. You'll find out the main similarities and differences between the two as we highlight the features that make these SUVs worth considering. Let's get started!
---
Subaru Crosstrek vs Outback: Vehicle Class
The Subaru Crosstrek and Outback might look similar, but they're actually in two separate classes. The Outback is a midsize crossover SUV, while the Crosstrek is a compact SUV. The Subaru Outback has more of a wagon look, and as we'll see, is overall bigger than the Crosstrek.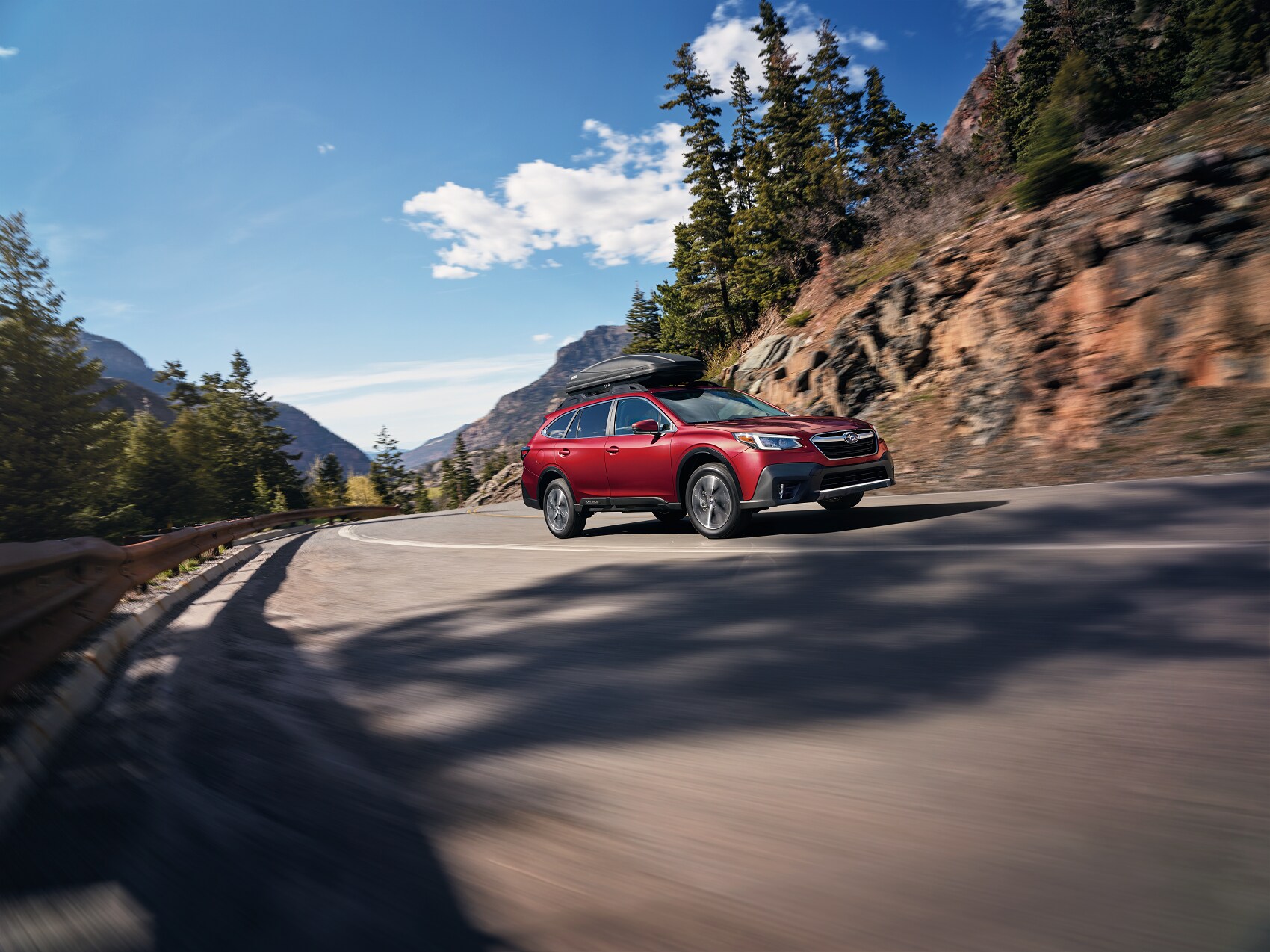 If we're talking measurements, like we said, the Outback is all-around the bigger SUV. The Outback is almost 15 inches longer, over two inches taller, and two inches wider than the Subaru Crosstrek. If you plan on driving in tight city streets and finding street parking, the smaller Crosstrek may be right for you. However, the Outback's larger body also comes with more space inside.
Thinking about those measurements will give you a better idea of how these two rides compare in terms of outer size and look. Keeping these exterior measurements in mind, let's take a step into these Subaru SUVs.
---
Crosstrek vs Outback: Passenger & Cargo Space
In terms of interior room, you'll get great space in both the Subaru Crosstrek and Outback. Front and back row passengers will find plenty of room to stretch out in all directions.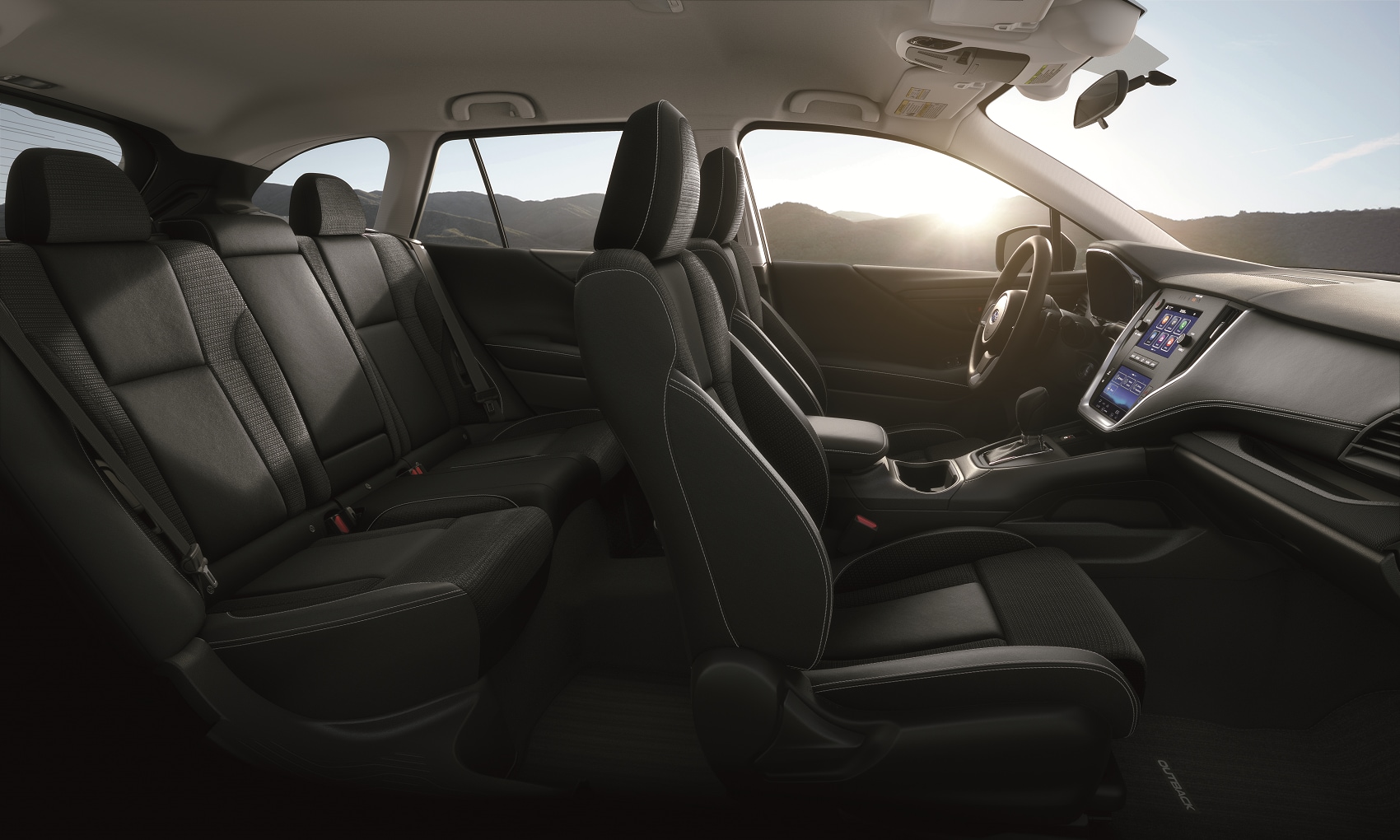 | | | |
| --- | --- | --- |
|   | Subaru Outback | Subaru Crosstrek |
| Headroom (1st row/2nd row) | 40.1 in./39.1 in. | 39.8 in./38 in. |
| Legroom (1st row/2nd row) | 42.8 in./39.5 in. | 43.1 in./36.5 in. |
| Shoulder Room (1st row/2nd row) | 58.1 in./57.4 in. | 56.7 in./55.6 in. |
When it comes to having room to pile in all the camping gear or sporting equipment, look no further than either of these models. The Outback offers 32.5 cubic feet behind the second row, while the Crosstrek comes in second with 20.8 cubic feet. That's plenty of space to hold groceries, luggage, and other essentials.
Folding down the rear seats gets you even more space for your larger gear and equipment. The Subaru Outback has a total of 75.7 cubic feet for your stuff. The nimbler Crosstrek also offers spacious cargo volume when you fold down its rear seats. You'll have 55.3 cubic feet of space, to be exact.
---
Outback vs Crosstrek: Similar Entertainment & Safety Technology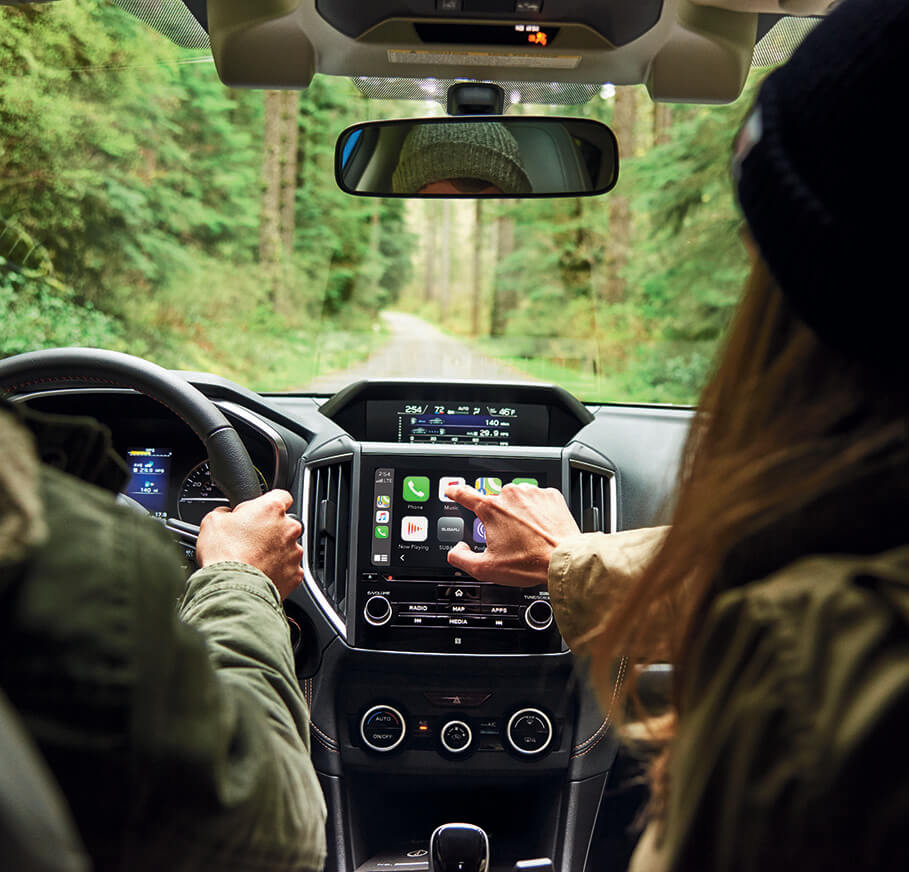 The 2021 Crosstrek and 2022 Outback are very similar in terms of entertainment and safety technology. There is a standard 6.5-inch touchscreen display in the Crosstrek and a 7-inch touchscreen in the Outback. They also come with a USB port, Bluetooth® capability, Apple CarPlay®, and Android Auto™. These innovative technology features will surely keep your longest drives entertaining.
In terms of safety features, you'll get a Rear-Vision Camera standard in both models. You'll then have the option to add the Subaru EyeSight® system, which includes safety features such as:
Blind Spot Detection
Rear Cross-Traffic Alert
Adaptive Cruise Control
Pre-collision Braking
Lane Departure and Sway Warning
Thanks to features like these, you'll feel like you have an extra set of eyes on the road, giving you an extra sense of security for yourself and your passengers.
---
Crosstrek vs Outback: Performance and Engineering
Subaru SUVs are known for being reliable and able to adapt to whatever the road throws at you. Both the Crosstrek and the Outback come standard with the Subaru exclusive Symmetrical All-Wheel Drive. This unique drivetrain system delivers dynamic power to your wheels depending on the situation. You'll get more traction on slippery and uneven surfaces and optimal power on flat roads.
Under the hood, there's plenty to appreciate with these Subaru engines.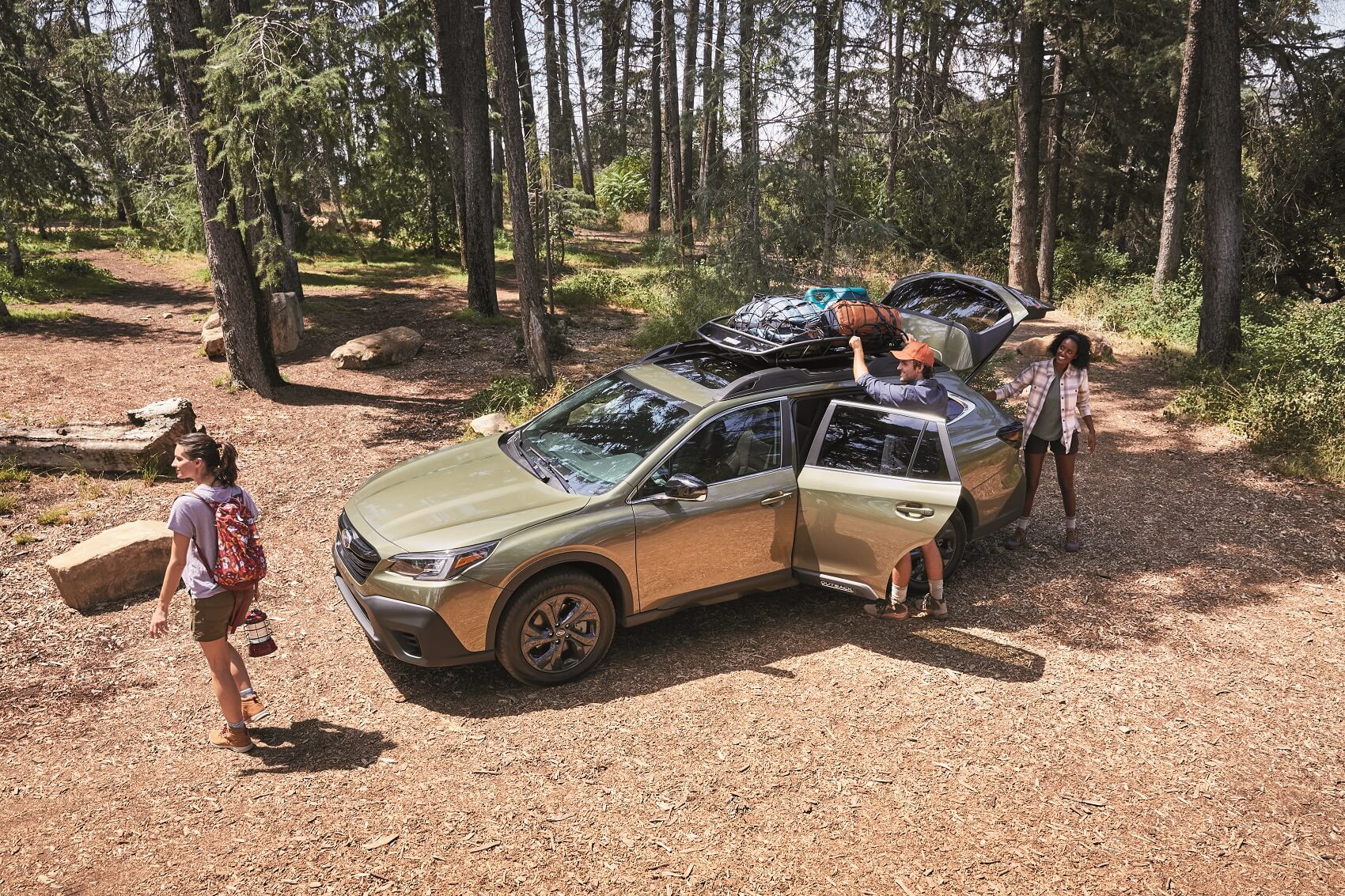 | | | |
| --- | --- | --- |
|   | Subaru Outback | Subaru Crosstrek |
| Engine Type | 2.5L 4-cylinder BOXER® | 2.0L 4-cylinder BOXER® |
| Horsepower | 182 HP | 152 HP |
| Torque | 176 lb-ft | 145 lb-ft |
If you love the body of the Crosstrek but want the power of the outback, you can choose an available engine that is identical to the Outback base engine. The Outback has an available upgraded engine as well. This engine is supercharged and comes with an intercooler while it generates 260 horsepower and 277 lb-ft of torque.
---
Subaru Crosstrek vs Outback: Towing Capacity
If you plan on heading out into the vast outdoors for a camping trip, you'll want to have plenty of strength on your side. Bringing along your favorite toys like kayaks, ATVs, and more will make your trip more memorable for everyone there. To do that, you'll need an SUV that can tow the load.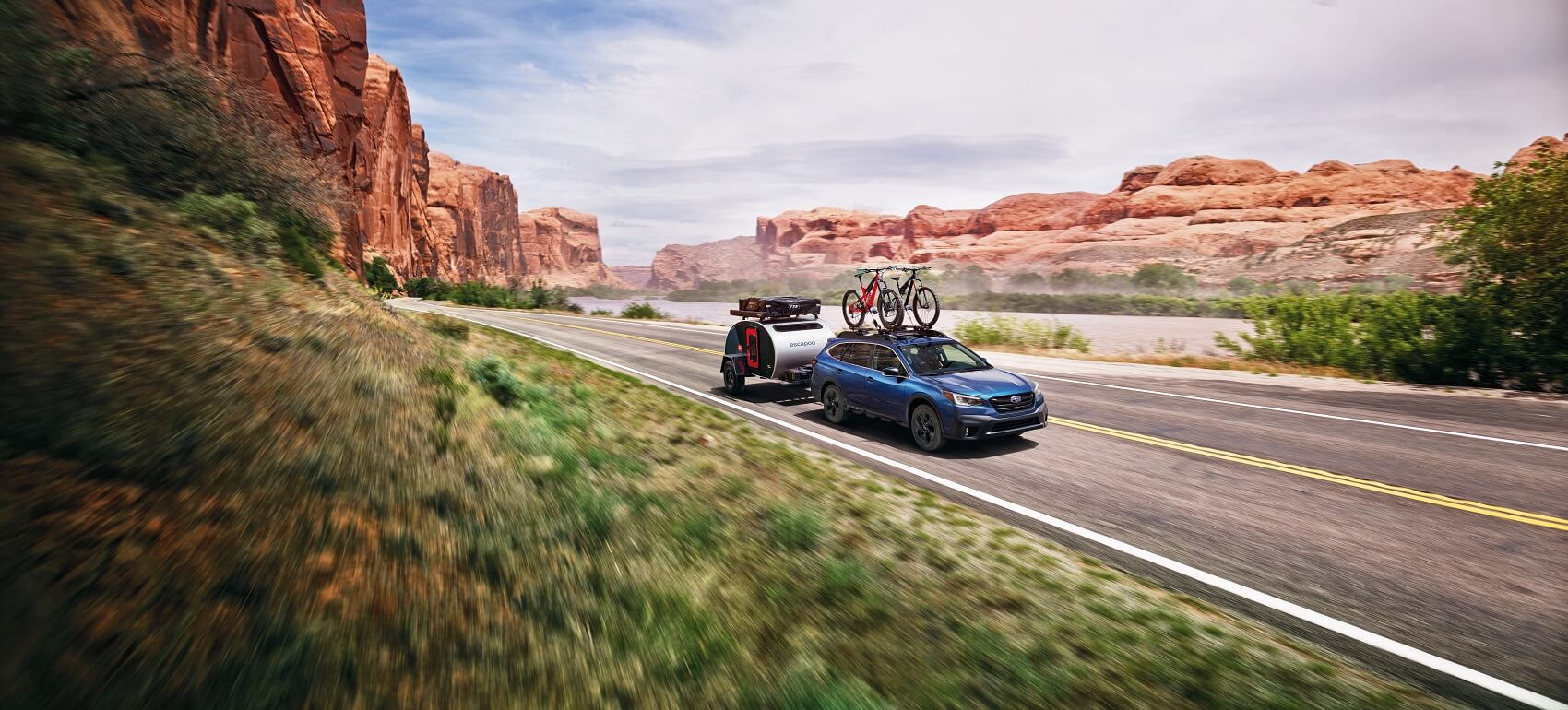 Luckily, both the Subaru Crosstrek and the Subaru Outback are built for towing. The Crosstrek can tow up to 1,500 pounds when properly equipped. This strength will allow you to pack all your essential gear for your next epic adventure.
In the Subaru Outback, you'll have even more capability. It can tow up to 3,500 pounds when configured for the job. You'll be able to hook up heavier trailers and bring along lots of your favorite stuff. Both of these Subaru SUVs let you tow and add more fun and variety to your adventure.
---
Test Drive the Subaru Crosstrek and Outback

As you can see, both the Subaru Crosstrek and Subaru Outback are great picks when it comes to choosing your next crossover SUV. The impressive passenger and cargo space and awesome advanced safety features are enticing and will have you and your passengers happy. The only determining factor is size. Simply consider where you plan to go, and the choice will be made clear.
To test drive the Subaru Crosstrek and Subaru Outback, contact us at Ira Subaru today. We proudly serve the areas of Wakefield, Reading, and Danvers, MA, and we would be happy to get you set up in your favorite Subaru model!
---