There are a variety of reasons why making the switch to an electric vehicle (EV) is worth considering. They provide a highly efficient performance with the advantages of producing zero tailpipe emissions and making gas stations a past memory. There are also a handful of financial incentives available when buying an EV.
Why should you consider a Subaru electric vehicle, though? Our Ira Subaru team is here to share the specific benefits of a Subaru EV and what you'll gain from driving one around Wakefield, Reading, or Danvers, Massachusetts.
---
Drive for Hundreds of Miles on a Single Charge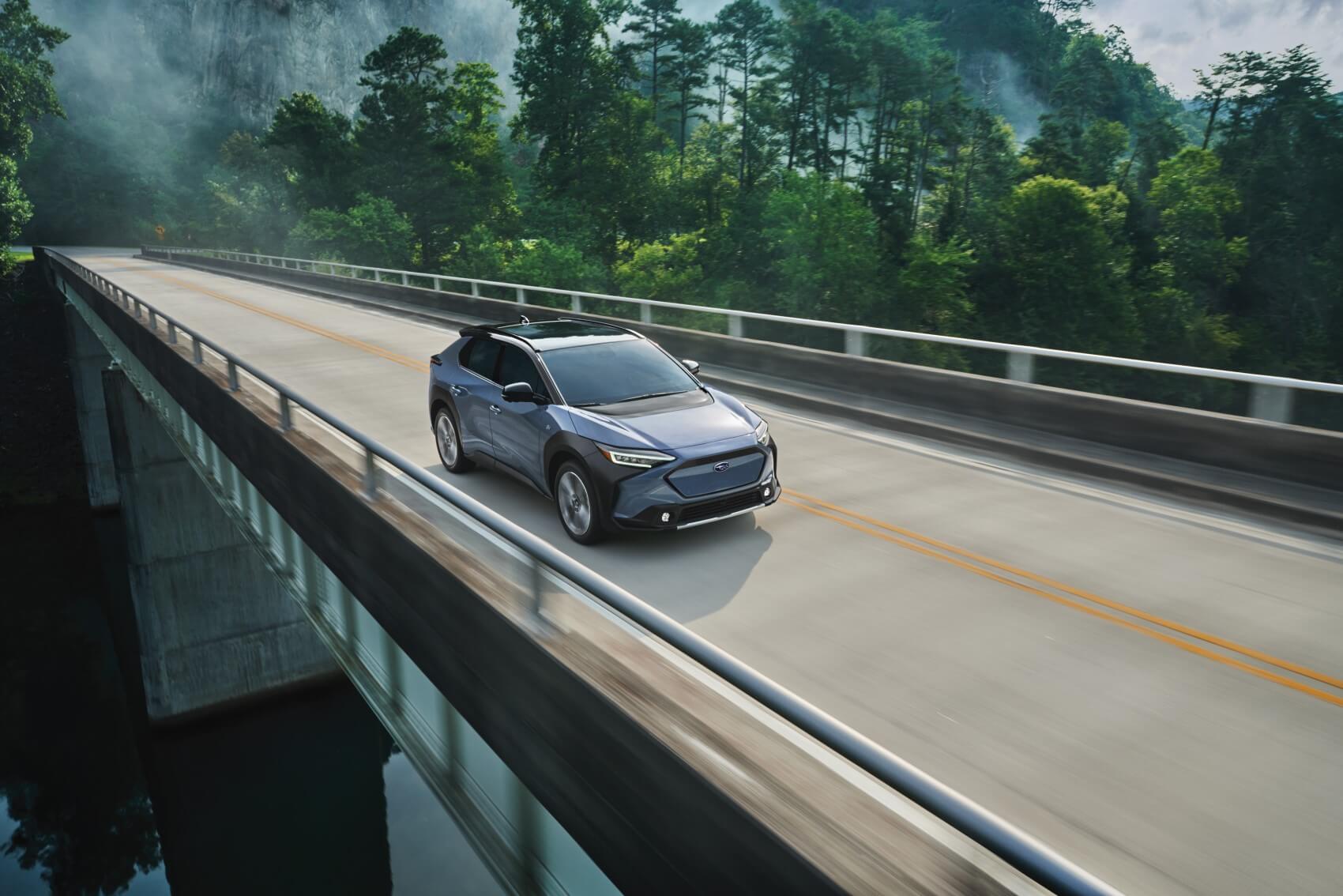 While you'll no longer need to stop at gas stations to fuel up with an EV, you will need to plan time to charge your vehicle. One benefit of getting the Subaru Solterra, which is Subaru's EV model, is that you can drive for many miles before it needs to be recharged.
One a single charge, this Subaru EV provides an EPA-estimated range of up to 228 miles.* This provides the mileage needed to head out on longer trips as well as commute around town each day with minimal charging needed.
Even when you need a boost in range, it's easy to charge your Solterra from home or while on the go. With over 46,000 charging stations across the country through Subaru's preferred charging partner, you can find a spot to get up to 80% of the battery charged in just an hour.  Even more beneficial is that their charging partner, EVgo, keeps their network of chargers powered by 100% renewable energy!
---
Providing the Space You Need
The Subaru Solterra is a practical option, too, when you're looking to make the switch to an electric vehicle. That's because it's designed as an SUV for drivers who want an EV while still having room for friends, the kids, or extra supplies.
It has 95.7 cubic feet of passenger volume, which gives all five passengers room to relax and enjoy the ride. Behind that, there's 23.8 cubic feet of cargo volume. With the rear seats folded down, this expands to 63.5 cubic feet of cargo volume.
Roof rails are also available, which lets you bring along bikes or skis for your trip into the mountains. Inside, everything from state-of-the-art technology to luxurious amenities are offered to enhance your comfort and overall driving experience.
---
Uniquely a Subaru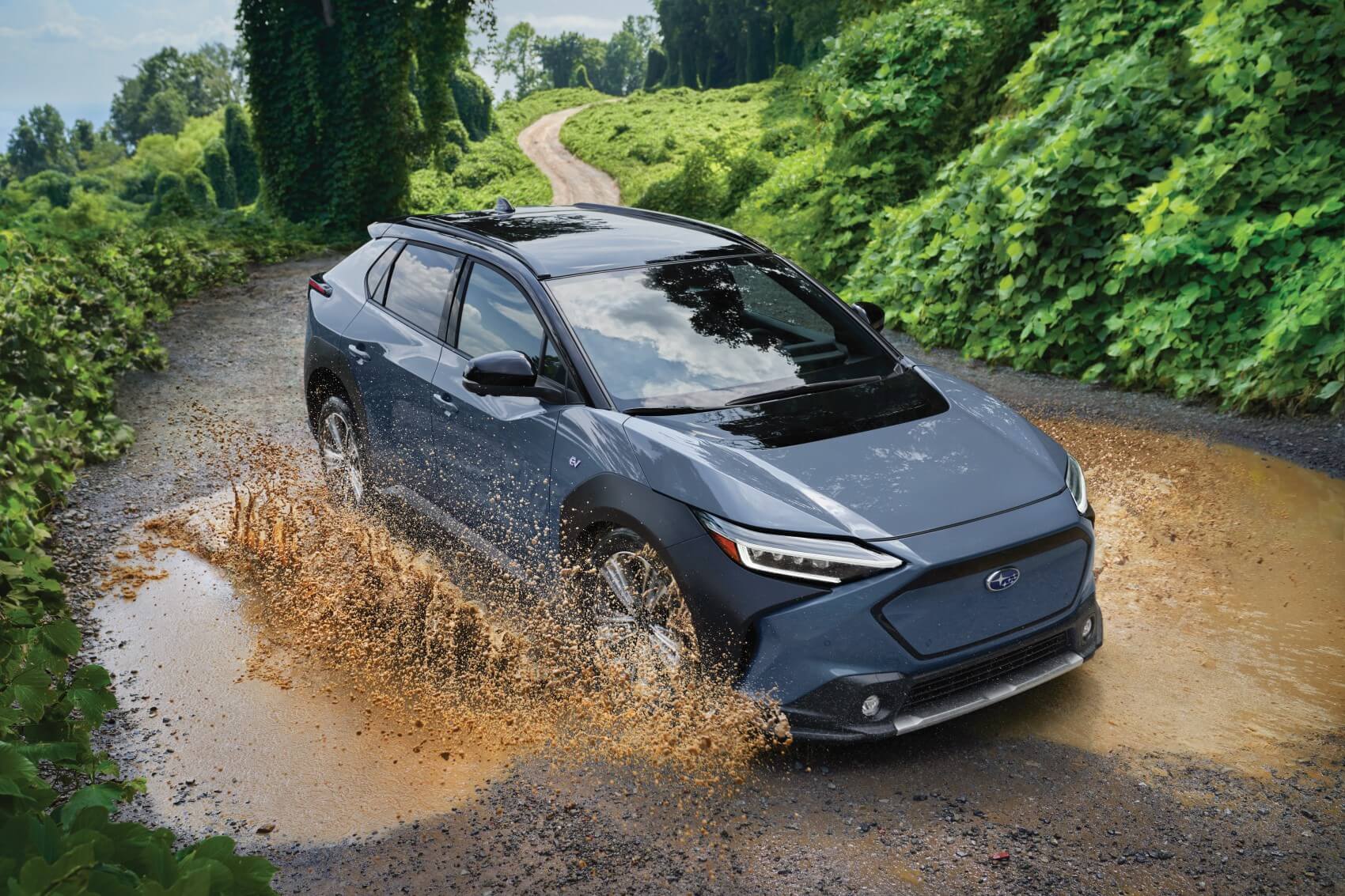 There's a lot that separates Subaru vehicles from other vehicles on the market. That's true about both its gas-powered models as well as its hybrid and electric rides. Reliability is a word thrown about a lot when referring to vehicles, but Subaru vehicles truly embody this.
They're built with quality components and engineered with precision so you can count on your Subaru's ability to take you where you need to go for years to come. Another aspect of Subaru synonymous with the brand is the adventurous spirit their vehicles have. The Subaru Solterra, like many other Subaru vehicles, comes with all-wheel drive.
In fact, this makes the Solterra the first all-electric SUV with standard Symmetrical All-Wheel Drive. Combine that along with X-MODE® and its 8.3-inch ground clearance, and this electric ride can also travel on a wide variety of terrain, from mud and dirt trails to snowy roadways.  
---
Learn More About the Benefits of a Subaru EV
Subaru is committed to protecting the natural world and helping in conservation efforts with various partner organizations. With the Subaru Solterra as part of its lineup, its environmentally conscious mission now extends to offering a truly eco-friendly mode of transportation.
These are just a few of the benefits you'll gain with the Subaru Solterra. Contact us at Ira Subaru to find out more and to take your own test drive in this Subaru EV. That's the best way to experience the many benefits it will provide along the roads of Wakefield, Reading, and Danvers, MA.  
* EPA-estimated range on a full battery charge. Actual range will vary with driving conditions, weather, and your vehicle's condition.
Make an Inquiry
Hours
Monday

9:00am-7:00pm

Tuesday

9:00am-7:00pm

Wednesday

9:00am-7:00pm

Thursday

9:00am-7:00pm

Friday

9:00am-6:00pm

Saturday

9:00am-6:00pm

Sunday

11:00am-5:00pm