If you're wanting the Subaru Forester as your next compact SUV, there are a few factors that you'll need to consider before finalizing your decision. You'll need to figure out which Subaru Forester trim you want, as well as the several features and options that are available to help you get the vehicle you want.
That's why at Ira Subaru, we have these Subaru Forester reviews that drivers in Wakefield, Reading, and Danvers can use on their journey to figure out which version of this SUV is the right pick for them.
Get started by checking out these Forester reviews, so you can determine which trim level is best suited for you and your needs as a driver.
Forester Interior Design & Amenities
When you step inside the Forester, you'll find a great-looking cabin with high-quality, soft-touch materials. Leather upholstery is available along with a leather-wrapped steering wheel and shifter handle for a touch of luxury.
Heated front and rear seats are available along with a heated steering wheel. So, when it's especially chilly out, these features will let you get nice and toasty at the touch of a button.
Dual-zone automatic climate control is another feature that could be quite useful. If you like the cabin at a cool 65 degrees, but your co-pilot wants to kick the temp up a notch, this system will let you do so easily.
Check out the Subaru Forester interior review to learn even more about the inside of this SUV.
Subaru Forester Interior Dimensions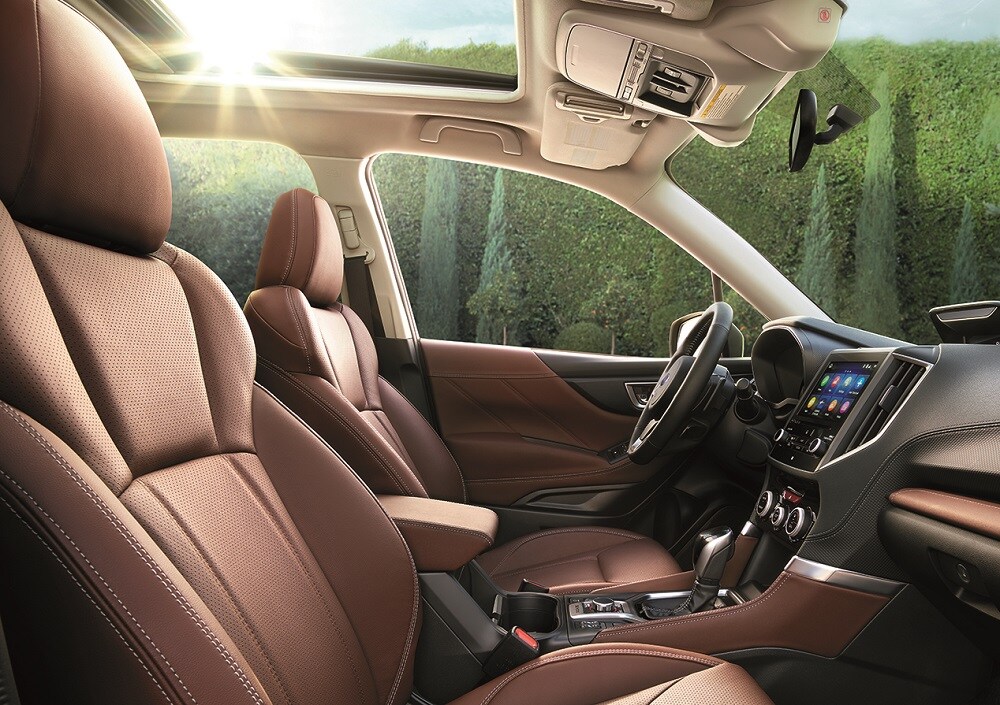 The Forester interior dimensions vary slightly between trim levels. For example, the base trim has 111.9 cubic feet of passenger volume, while every other trim gives you 107.8 cubic feet.
Headroom also varies slightly, with the base offering 41.2 inches in the front and 39.6 inches in the back. For the other trims, you get 40.2 inches of front headroom and 37.7 inches of rear headroom.
However, legroom remains the same across the board, with 43.3 inches up front and 39.4 inches in the back.
No matter what, there's plenty of room for five passengers, with huge door openings that allow for easy entry and exit.
Learn more about Subaru Forester dimensions!
Forester Towing Capacity
With plenty of cargo room and power in its performance, the Subaru Forester is ready for any journey around town. However, maybe you want to head to the mountains or the beach. If so, then you'll want an SUV that can tow your larger items.
Luckily, the Forester is up to the task, with a maximum towing capacity of 1,500 pounds, which is plenty of power to tow your favorite belongings, such as an ATV or jet skis. So, hitch those babies to the back of the SUV and get going on your next excursion!
Learn more about the Subaru Forester towing capacity here.
Subaru Forester Miles Per Gallon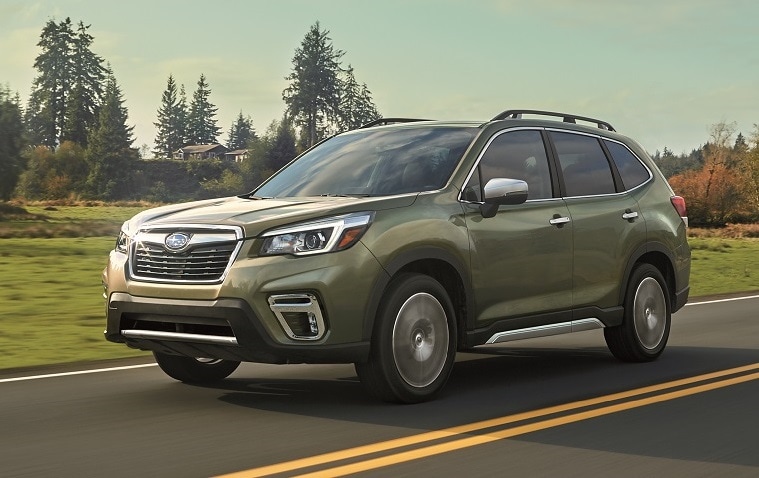 Wherever your destination may be, you want to make sure your vehicle is efficient enough to get there.
The Forester achieves an EPA-estimated 26 city/33 highway MPG, which means you can spend hours on the road before needing to refuel.1
Plus, with the standard Auto Start-Stop System, you'll reduce fuel consumption. With this feature, the engine will automatically shut off when you're at a standstill and turn back as soon as your foot leaves the brake pedal. Therefore, you can get more fuel economy out of your car, which can save you money in the long run.
Check out the Subaru Forester's miles per gallon.
Subaru Forester Trim Levels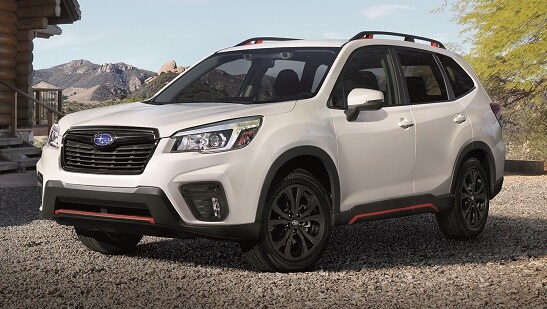 The Subaru Forester comes in five different trim levels. These trim levels vary in their interior styling, available features, and performance. The key choice you have to make with your Forester is deciding on which trim level is the one that appeals to you the most.
Along with the base trim, you'll get the following levels:
Premium
Sport
Limited
Touring
Learn more about the Subaru Forester trim levels!
Forester Cargo Space
The Subaru Forester also has lots of cargo room for whatever adventure you may be taking. There's 35.4 cubic feet of cargo space behind the rear seats. Fold them down flat, and you have up to 76.1 cubic feet of cargo room to work with.
The trunk's wide opening makes it easy to load longer items. Plus, an available Power Rear Gate adds convenience to whatever errands you may be running or vacation you may be taking.
Check out the Subaru Forester cargo space review to learn even more about the inside of this SUV.
Subaru Forester Performance Specs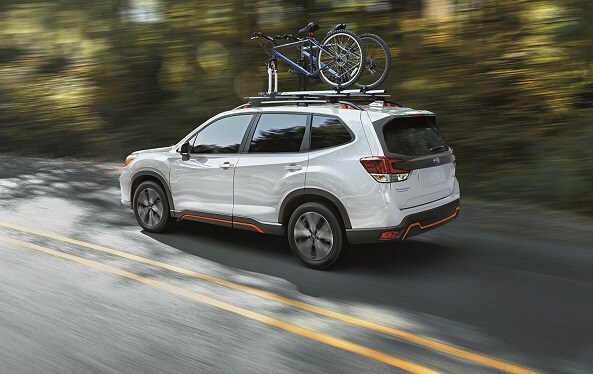 The Forester features responsive steering and firm brakes, while also feeling composed on the road. Due to this, it makes for a great everyday automobile.
It comes with a 2.5L SUBARU BOXER® 4-cylinder engine that delivers 182 horsepower and 176 lb-ft of torque-plenty for getting around town or cruising on the highway.
Plus, the engine is mated to a Lineartronic® CVT (Continuously Variable Transmission), which responds well to any driving situation.
Take a look at the Subaru Forester specs in depth.
Subaru Forester Ground Clearance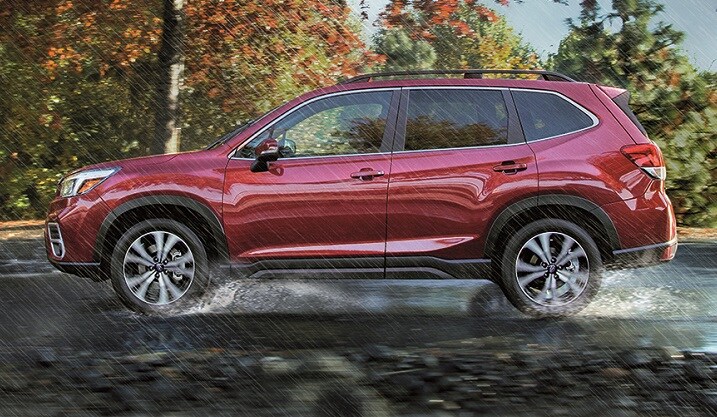 Whether you want to travel in the city or off the beaten path, the Forester can handle it. With a ground clearance of 8.7 inches, you can travel on even the hilliest terrain.
Plus, the vehicle offers X-MODE® with Hill Descent Control. X-MODE® works with the standard Symmetrical All-Wheel Drive system for maximum traction on slippery surfaces. Then, Hill Descent Control will adjust the SUV's speed, so you can stay in control when driving down uneven terrain.
Check out the Subaru Forester ground clearance review to learn even more about the outside of this SUV.
Find a Subaru Forester for Sale near You
After checking out some of these Subaru Forester reviews, you probably have an idea of which trim level piques your interest. However, you'll want to take the next step in your Subaru Forester research by getting a closer look and even getting behind the wheel and experiencing it yourself.
At Ira Subaru, you can always find Subaru Forester vehicles for sale near you in Wakefield, Reading, and Danvers. Stop by and see us to get started on your Subaru Forester adventure!
Still, first, want to learn even more about the Subaru Forester?
Check out the Subaru Forester standard features.
1 EPA-estimated fuel economy. Actual mileage may vary.